The first thing to note about the Born To Run event is it's not like any other you will run. The RD blasting three rounds from a pump action shotgun to start the race briefing is a final reminder should you have forgotten this. If James Elson tried that at Goring Village Hall the locals would lynch him before the last round rang out and the letters to the Daily Mail would be unprintable.
I'd entered the race relatively late in the process having been due to run the South Downs Way 50 the previous weekend but owing to poor organisation on my part, found I'd be in California on a family holiday (or vacation as the natives call it) so unable to toe the start line. This was disappointing but given I'd suffered a series of annoying leg injuries from a hamstring tear and a subsequent calf strain I was a long way from being 50 mile fit. The sensible part of me took this as a sign to properly rest and recover. The less sensible part argued that an entire weeks extra rest would be sufficient recovery to allow me to cover a mere 30 miles at this event. Guess which one won?
Born To Run is staged annually by the gun-toting RD Luis Escobar in the hills of California outside Los Olivos. If you imagine the Love Trails festival in the UK, mixed with Glastonbury and a smattering of NASCAR Americanism/tailgate sport events you'll get some of the way there. At one point there was a pole dancing session taking place opposite a tie-dye demonstration.
People set up camp from Wednesday until Sunday and there's the choice of 4 day, 100, 60, 30 or 10 miler. For those that really know their limits there is also the 0.0 event with avoids the messy business of running at all. For me the 30 miler looked far enough to be worth a minor diversion on the holiday without being too big an undertaking for an undertrained hobby jogger so I signed up and got on with the important business of packing for the holiday.
My main concession to the race preparation was to ask some previous entrants if road shoes would be suitable given I'd hopefully be running throughout the holiday in a desperate attempt to train and figured a run down the streets of Vegas in lugged shoes would be awful. As it turns out pretty much any run or walk in Vegas is awful. It's the only place I've ever arrived and instantly counted down to how soon before we could leave.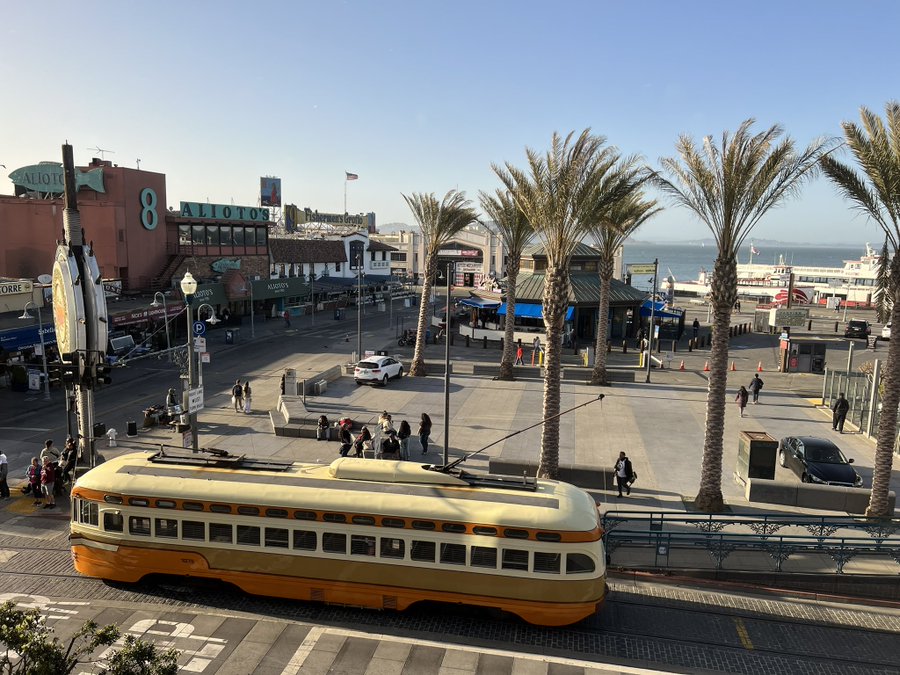 So it was that whilst tucking into a corndog on Fisherman's Wharf in San Francisco (a lovely place to do anything) that I received the first of several pre-race emails and began to appreciate quite what I'd let myself in for with the Born To Run ultra.
Living in the UK the worst we have to deal with on runs is stubborn cows or bossy swans. Only Stuart is soft enough to be morbidly afraid of cows. The FAQ for the race noted that rattlesnakes were present on the horse ranch hosting the event. Big ones. What?!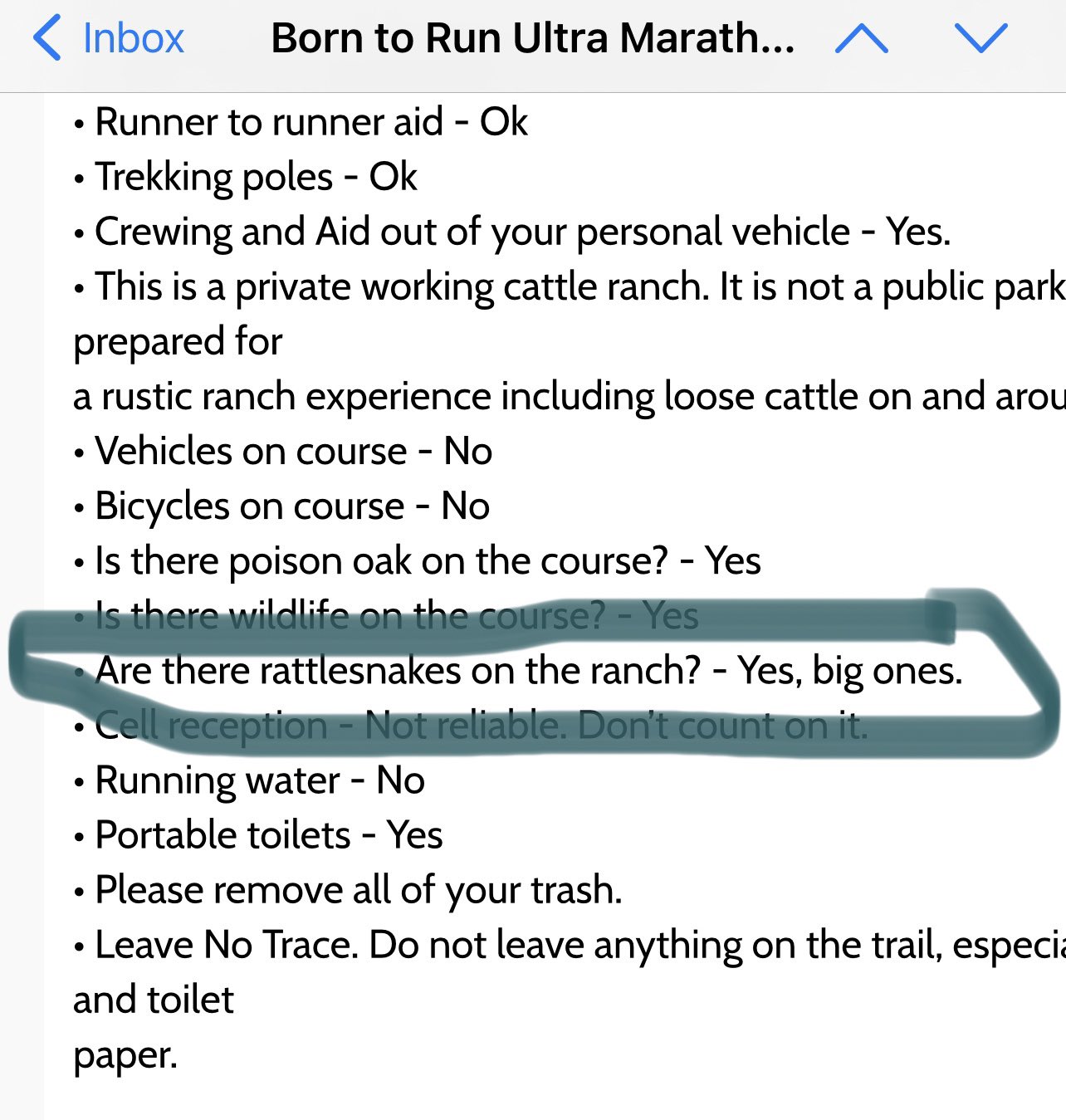 Other notable points were mandatory kit. Namely a cowboy hat. Not the full length taped seams trousers of the Lakeland 100 but an actual hat for a cowboy. Additionally we needed to bring a signed waiver (probably promising not to sue if bitten by a large rattlesnake) which is easy to do at home, less so in a series of motels and hotels as you travel the state and staff struggle to work around overly secure IT restrictions to allow this.
The two weeks of the holiday not spent on tours, theme parks, visiting Alcatraz, the Grand Canyon or cycling over the Golden Gate Bridge were spent eating and drinking with the odd foray into shops to try to locate a cowboy hat that wasn't hugely expensive. I did manage to squeeze in a few runs but they were limited to a slow and ungainly 10 miles in San Francisco, a frustrating 6 in Las Vegas (a grotesque, crowded and anti-pedestrian hell hole) and a time constrained 4 miles in Anaheim before a second day at Disney. In all of them I felt awkward, unfit and struggled to recall when running had felt natural since it all seemed so very forced at the time. Ho hum.
Eventually Friday rolled around and we set off from Anaheim to the town of Solvang which sits nestled in the wine country of California among rolling hills and ranches and so of course is modelled on a Danish village, right down to windmills, pastry shops and Copenhagen hall. Solvang was founded in 1911 by three Danish immigrants so there is some reasoning behind this although it does initially sounds like a jarring Disney style pastiche it is one of the cutest towns I've visited and kids and adults were both equally enthralled as we drove to find even our motel was modelled on a Danish street. By luck the local grocers stocked cowboy hats and for $16 I finally found one closer to what I was prepared to pay.
Race day arrived and it was an early start. The 60, 30 and 10 events all kicked off at 7am on Saturday with race briefing at 6:30am. Although we had stayed close there were frequent warnings on the FB group that the entrance to the horse ranch was easily missed and I needed to allow time to register and get parked up.
I rocked up to the gates some time after 5am and after registering a group of us we were instructed to follow an off road buggy bedecked in lights down to the main staging area and shown where to park up (namely in a ditch off the road, which I was worried might claim the hire car as Camry are not known for off-road ability). Again it wasn't the usual 'follow Brian in the hi-viz to the parking area' you get in the UK.
It was still dark I huddled in the car away from the snakes and watched the sun rise and slowly bring detail to the camp below. It was a small village of RVs, tents and pickups, with gazebos and coolers.
Once it was light enough I walked down to the centre and was greeted by many attendees still drinking from the night before whilst the occasional runner for the longer distance events stumbled through to cheers of support from the well-hydrated spectators. It was impossible not to be taken in by the festival vibe and I managed to forget my fear of snakes, hills (California is bloody lumpy) or lack of training.
After the race briefing (two lapped courses of 10 miles, one pink, one yellow, alternate and do as many as needed for your 10, 30, 60 mile race) the RD Luis introduced the runners from the Tarahumara tribe in the Copper Canyons region of northwestern Mexico. If you've read the book 'Born To Run' then you'll have learnt of this ancient tribe of distance runners and no doubt broken your calf muscles and Achilles trying to imitate the natural, often bare footed approach they have. To see them in person was amazing and they'd even made the medals for the races so we weren't just racing for a mass produced piece of metal from China but a crafted item from local wood by a tribe at least 2000 years old.
We assembled on the start line behind the tribe and got ready to run. There was the usual mixture of runners bedecked in multiple layers with race vests and topless dudes jostling for space at the front. Wherever you race there is always at least one topless dude. With a further blast from the shotgun we set off and I could (briefly) claim to be running with the Tarahumara before they left me for dead.
The day was initially cold and I'd started with a light rain jacket over my vest. Within a couple of miles I was too hot and had to strip it off. The course was beautiful, mostly wide trails through pastures strewn liberally with oak trees, it reminded me of a more undulating version of the gardens of a stately home with less tea shops. Undulating was definitely the theme as the course wound up and down the hills. None of the climbs on the first lap were un-runnable for someone fit but given I'd not run over double figures in a month I was cautious and rightly so as I gradually felt the miles mount.
Lap 1, pink, was completed in 1h40 and I felt largely OK but I worried if the second lap, on the yellow course was harder or hillier. It was harder. And hillier. Some steep climbs reminded me of Puke Hill in Milton Keynes or Wendover Woods where you can't really get your heels down and run/amble up on your toes. The run along the ridge line was amazing and the views breath taking, akin to the Scottish valleys but bathed in the warm partially clouded sun of California. A couple of descents were steep on loose sandy soil and made me doubt the choice of shoes. I'd already lost the pace to slip merrily down the hills like a joyful goat and mostly slid like a fat Brit too full of Disney food and bottomless soda refills.
Despite trying various treats from the aid station and a concoction of sports drinks I was flagging quickly and the second lap was over 2 hours. I made a slight detour for the car to get my headphones as needed some music. The beautiful quiet of the horse ranch that I'd enjoyed for 20 miles was now a reminder of just how slow my pace had become and I wanted to take my mind off it. The advantage of countless marathons and ultras is you can sometimes see the slump coming and if not head it off, at least settle into it and work to make it more bearable.
Sometime around 24 miles the occasional spattering of light rain turned into a full drizzle and on cue a runner originally from Cheltenham, London, asked why I'd decided to bring the UK weather with me for the race. Whilst I was glad not to be scorched by the California sun it would have at least given me an excuse for my performance. The drizzle only called into question the likelihood of me getting the car out the ditch to get back to the hotel.
Whilst debating whether a forward or reverse dollop of speed would be best to get the Camry up the slope I settled into the power hike/ultra shuffle usually reserved for the later stages of a 100 miler rather than when you're not even at marathon distance. A big positive was it being my first run since February when I tore the hamstring that I was without any leg pain. My legs felt great, amazing in fact, just lacked the fitness or cardio to make any use of them.
This being the second time on the pink route I knew that the large climb would eventually end and then a final couple of miles downhill through the camp to be cheered in by the attendees and over the line to finish a long way outside my estimated 6 hours at 6h25 and 58th of 131 finishers. The winner ran it in 3h24 which given the terrain is ridiculously impressive.
The event was amazing. The course was gorgeous. The weather was probably perfect for running. My performance was piss poor but to run with the Tarahumara and take home a hand crafted medal was worth it.
Things to note for first timers to this event –
You probably won't see a rattlesnake. Hopefully.
Although the California flag has a big bear on it, you won't see one of them either.
If it's dry a road shoe is fine.
Cheat sticks would be good for distances above 30 miles. Or anything over 5 miles if you're as unfit as me.
The Hammer Gels on route are an acquired taste. I'd rather contract an STD than enjoy eating them.
Don't forget your cowboy hat.
Don't forget your waiver, one for everyone attending, not just runners.
It would be an amazing camping experience and given the price of California hotels a great money saver.
US race fees across the country are steep. The 30 miler ran at $125 plus $8.81 booking fee. You do get a great Patagonia tee, the tribal medal and a speed cup in the price bit it's still twice the UK equivalent. This isn't the race organisers being greedy, the whole business model in US seems different, I presume a mixture of land and insurance costs etc.
There's a fee on top of the entry for everyone that attends the ranch. $10 per day, per person, payable in cash as you arrive. Compared to the hotel cost it's great, but for one day attendees brings total to $143.81 for a 30 miler, about the same as a UK 100+ miler.
California is pretty pricey. The price of everything across the world seems to be creeping up and the self-imposed sanctions of Brexit and devaluing of the pound haven't helped us. Don't be surprised for most main courses to be over £20 even in chain restaurants and domestic beers from corner shop are £4-£5 a can, basically UK pub prices. Then there's sales tax on top and service charge for eating out. Budget accordingly.