Saturday night was spent dancing to the The Killers at the wedding of two good mates. Sunday morning was spent wishing The Killers would make good on their name.
If you're planning your race calendar it's a good idea to check your whole diary, not just the day of the race otherwise you might be flushed from comparative success at London marathon, book another marathon in for an empty Sunday two weeks later and then realise you've got a wedding the night before. Clearly the wedding was going to happen, the marathon was looking a bit unlikely.
I've not done a Run Through event before but heard good things. The Bedford Autodrome event was local, promised to be fast and flat (if a little exposed) and had a range of distances from 5k to marathon. I've only ever been around it before on a track day going considerably quicker than 7 minute miles even in our lethargic track car.
Waking up Sunday morning I felt a little tender. Stopping for my usual pre-race McDonalds I found myself unable to eat it so made it to the venue having had just a coffee. If you've not been to Bedford Autodrome before it's a massive complex so there's probably a five minute drive between arriving at the entrance gate to actually making it to the car park. I had about half an hour spare once parked up which was plenty to collect the bib from the very organised team in the pit garage that was being used as the race HQ and then go and attend to the essential issues in the portaloo. Kerry and Paul were also running so it would have been nice to chat but I was mostly concerned with trying not to make a scene as my body decided which end was going to let me down. I was hanging.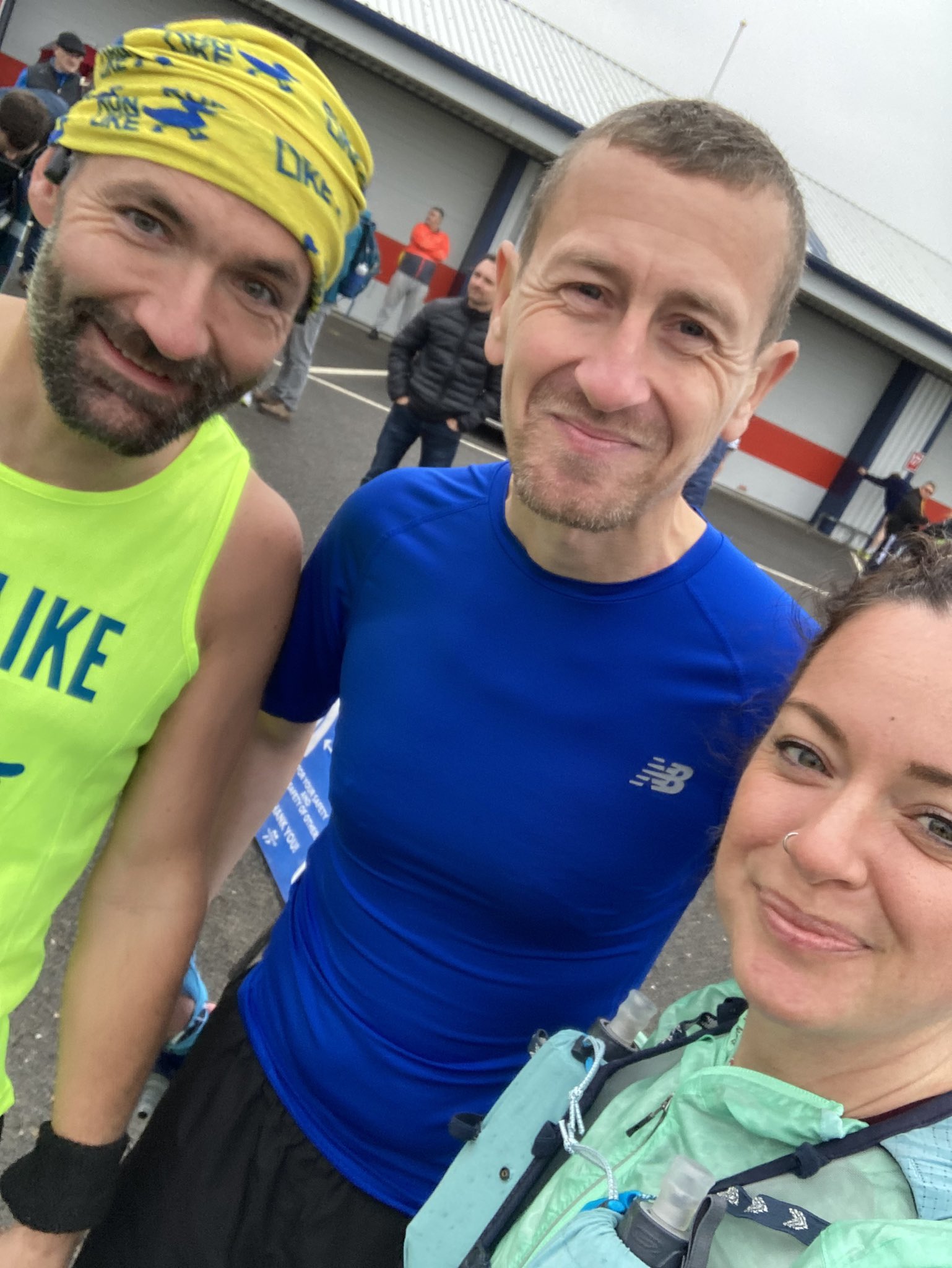 My plan had been to push on from the 3h25 at London and go for something faster. On the morning of the race finishing without vomiting seemed a better goal. Stood nervously in the portaloo queue for a final wee I took the chance to check out what other runners were wearing on their feet. The usual mix of Nike and Adidas carbon plated shoes all replete with timing tags. I didn't have a timing tag which caused some panic as I tried to recall which bin I'd thrown my race envelope in and went to retrieve it. This was all going well.
A nice feature of the event is there's space on the start/finish straight for runners to place their own stuff for fuelling in the race. Some runners even had family or friends waiting to pass them drinks so would be ideal for a proper PB hard effort tailored to your needs. I had a few bottles of sports drink in the car but couldn't even face the thought of drinking them so planned to stick to water and the small race pouch with Gu Gels (the only gels I've found I can keep down) and Caffeine Bullets (chewy caffeine) that I'd sorted out the day before.
As we set off I felt queasy so stuck some podcasts on and vowed to get on with it. Plan when sober the week before had been around 7:40mile pace for something around 3h20, but picking up the pace at 20 miles if I felt good. Naturally I ran under 7:20mile for the first six miles as I can't pace properly and was trying to escape the cloud of my own beer farts.
For much of the first 10 miles I was in a nice pack of similar paced runners and could turn off my brain and just run. Gradually the pack split and some pulled ahead or fell behind. The hangover was clearing but the lack of breakfast was making itself felt.
The course at Bedford is very fast but as noted above exposed and the changeable weather made itself felt as some sections seemed into a strong headwind. The various race distances worked well as broke up the monotony of following the same runners around as you mixed up with others. Some of them were properly quick and whipped past like professionals whilst the flat nature of the course meant others were pushing running buggies and aiming less for elite status. I saw a few clubmates from Redway Runners and Lakeside Runners which was good, as well as runner juggling balls the whole way.
Halfway came around 1h35 but I was definitely fading. There were a few food options at the aid stations but nothing looked like it would sit well for me so stuck to gels and caffeine chews, switched from podcasts to music and tried to reinvigorate my legs. The fade continued but with a fast course and optimistic early pacing I was still doing OK and passed the '2 mile to go' banner under 3hrs. With my sensible and not hungover head on I should have trusted my Garmin that was only on 23.5 miles but I really wanted to believe the banner. Even with a slow last couple of miles that would have been a guaranteed sub 3h20. Closer to three miles after the '2 mile' banner I cross the line on 3h21m08s to secure my 6th fastest marathon of 124 attempts, and 150th event of marathon or longer.
The event was certainly a quick course and I've not gone quicker since 2019 so slowly getting back towards my PB shape. With a bit less headwind, proper pacing, some breakfast and not having spent the night before drinking and dancing I could certainly have done even better.
I'm looking to head back in March for a fast spring event after some proper training and see what I can do. I shall make sure it isn't the day after a wedding though. I would definitely recommend Run Through for efficient and professional events. Mileage markers aside it was perfect.