If you've ever been to a gym you'll have seen the rowing machines, typically by Concept 2 and had a play.
They're perfect cardio and the basic design is uncharged for years. All credit to Concept 2 as they still do aftersales support for every model, right back to 1981. My own rower is a second hand Model C from made between 1993 and 2003 and still going strong, they even do upgrade kits to the newer style performance monitors. There's very few companies that give you reasons to keep your old kit rather than replace it entirely. Even the very early models are worth at least £300 second hand. Try selling a 20 or 30 year old treadmill for that.
Concept 2 have more recently branched out and make a BikeErg, which is by all accounts an insanely hard workout and closer to an Assault Bike than a normal exercise bike:
Their other offering is the SkiErg. These are £700 if you mount to a wall or another £180 for the stand. Again not cheap but you get what you pay for. I looked around for a while but nothing cheap came up second hand.
The selling point of a SkiErg is it "helps you build strength & endurance, working the entire body in an efficient, rhythmic motion. Skiing is a low impact, high calorie burning exercise suitable for all ages and abilities." Or in basic terms, stand on the spots, yanking and bend until you see your lunch. They are beloved of crossfitters and lifters.
As you'll have seen all their products are basically variations of the air resistance rower mechanism that is their speciality. There are some unbranded copies from China that you can find online but still expensive and given the likely issues with a warranty claim from a dodgy third party I wouldn't risk it.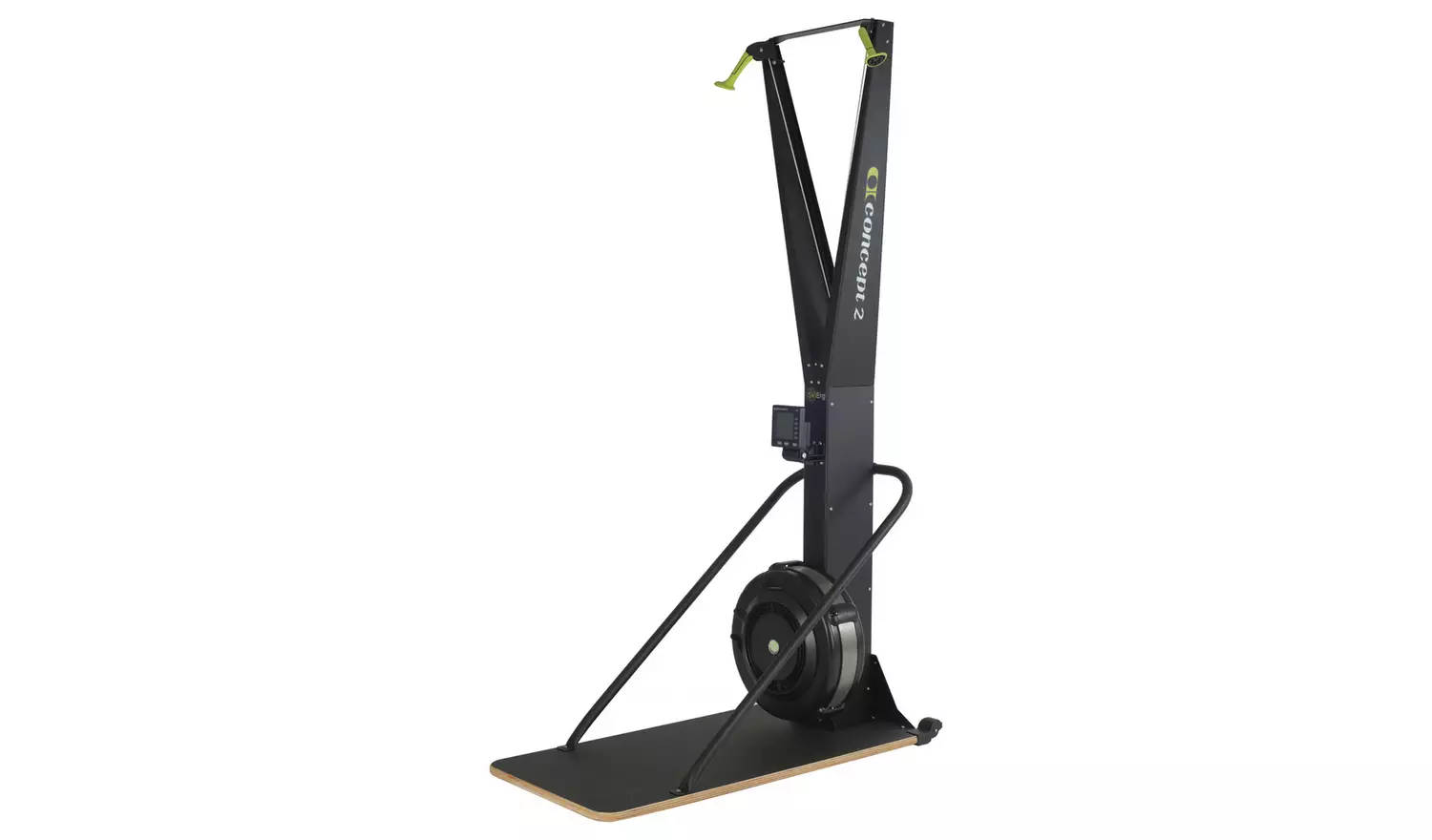 The Plan
What I did find on the internet when looking around is several people have simply strapped their concept 2 to the wall or a weight frame and used it as a basic SkiErg.
So I looked around for a cheap Concept 2 and failed. Figuring this was going to be an experiment I widened my search and found a Marcy rower for £15. The monitor wasn't working but I could live with that. It was also magnetic when I'd rather air resistance but beggars can't be choosers.
A quick check in battery compartment and some battery corrosion had ruined one of the terminals. Quick clean up and new solder and the screen was working. Gave it a test and all worked well. Plan eventually is take the runner off and mount the whole unit in the roof of the garage with just the handles hanging down so I have a SkiErg that takes up no floor space.
As luck would have it I found someone had already designed and modelled some SkiErg handles and uploaded on THINGIVERSE – I printed out a set on the 3D printer, took about 10 hours. These have a hole through them to use cord or similar. I didn't have any cord but did have a lot of heavy duty hooks and chains leftover from the kids climbing frame that sadly rotted away. I drilled out the handles to allow me to tap them and screw in a hook each. Then with some lightweight chain I tested the idea just looped around the rower handle to see if it worked.
Once I knew it worked in theory I raided the climbing frame pile and found two suitable lengths of chain that were coated for safety and avoid finger traps for kids. In their new use they would stop annoying clanking.
PAY ATTENTION HERE – When you take the old handle off the rower, whether belt or chain, the machine will try and pull it back in. Normally not an issue as the massive handle stops this. You've just removed that so if you let go of the chain/strap it will disappear into the machine and be a pain to fish back out, you'll probably need to strip it all down. For this reason either have someone help or tie a knot in the strap/stick a screwdriver through the chain or something!
In my case the strap has a loop that goes around the handle. Undo the two screws as per photo earlier and slide this off then stick a carabineer through the loop. This was big enough to stop it dissappearing into the machine.
I attached the two lengths of chain to the carabineer and each of them to a handle. The ones on the handles are a little light duty so will look to get something a little sturdier.
Does it work? Yep. I needed an assistant to help me get it mounted in the ceiling and positioning and fixing is a bit temporary at present but seems good! As you're only using arms and not legs (as you would on a normal rower) the effort is a bit higher so a rower that seems a bit easy would be ideal converted.
Cost –
Rower: £15
SkiErg Handles: Maybe £2 of filament and power. You could use handles from garden tool suppliers or similar
Threaded rings for handles: Free
Chain: Free (you can use cord instead)
Large Carabineer for main pulley: Free
Two small carabiner for the handles: £2 for both
Fixing the display: Free
Total Cost: £19
If you don't have as much junk laying around as me I'd expect to pay £20 for the chain and other bits. If you use cord instead of chain it would be cheaper as could loop through the rower pulley, run through the hole down the centre of each handle and tie off.