The race that wasn't
It's the week before London Marathon. On Sunday 3rd October 2021 I will be running an event I entered the ballot for in April 2019, found out I had a place for in October 2019 and expected to run in April 2020. Then Covid happened and it was delayed until October, then became Elite only (sadly they don't consider me elite, something to do with being fat and slow) and I think it went to April 2021 (the memory mixes all the postponements up), before finally settling on October 2021.
My original plan for London was to actually focus on a marathon and train properly. Previously I've either run multiple marathons in a year, often several in a month, or been focusing on ultras so used them as catered training runs with the odd one run at pace if I felt good and got some surprise PBs. I finally felt it was time to see what I could do with a dedicated focus and see how much under my 3h13 PB that I'd run two weeks before a 100 miler I could actually go. This coincided with winning a local sponsored athlete program to receive running gear from Up & Running Milton Keynes, a training plan from Clean Coach Katie (now The Running Hub) and sports massages from Rudi at The Treatment Lab. It's a measure of quite how much time has passed that the other athlete, Anastasia, is days away from giving birth having grown an entire human in the intervening period.
You can read how training went on my blogs from January 2019 onwards. I was a little stiff and slow from the previous year of ultras including Transgrancaria, Milton Keynes 24hr and Lakeland 100 so initially the goal was to drop mileage, rebuild my body, get me into shape and begin to build the focused speed work with a couple of half marathons in training to judge progress. High mileage and demanding races in 2019 had meant I was now working hard to go sub4 when previously sub 3h30 could have been considered achievable on most marathon courses.
For the first few months the training all went very well. I wasn't yet back to where I wanted to be yet but was definitely making big improvements in the right direction and having the accountability of a coach really worked. No need to map your own runs, just look at the plan and do it. Even if it sounds a horrendous session and you want to sack it off you go and do it. I was also doing this odd stuff called 'strength and conditioning' by Katie and running specific exercises from Rudi.
Sadly Covid stopped being a weird thing happening in China and became something big and scary over here. By mid-March I could see the writing on the wall and that London was likely to be gone. There were still some who believed it might happen but then some adults still believe Boris is fit to hold office. The loss of London did dent my enthusiasm in the critical final month of training before the planned taper. It's hard to run vomit-inducing intervals in preparation for a race that looks doubtful at best.
Then the inevitable happened and London was postponed. The hall at Excel that had been expecting to welcome thousands of runners for the Expo was now an emergency hospital for Covid patients that thankfully was never needed.
I ran my own virtual London at a steady effort on the day it should have taken place, skirting strangers as suddenly they were a disease vector or potential carrier rather than a person. When I got to the critical 18 mile point where in a race you'd begin to knuckle down and tough it out I decided to keep the effort steady, avoid stressing the body and save my best race for an actual event so jogged in a 3h32ish. It was a clear sign that the proper training plan from Katie had worked as I was back to where I had been before Lakeland ruined me and in a race environment would definitely have been looking at something much quicker, especially if I'd maintained the effort for the final month of training rather than sulking. In the alternate non-Covid world I would have hopefully been targeting sub3h05 with anything over 3h15 as a disappointment.
The intervening year and a bit between fake April London 2020 and actual October London 2021 were a mixture of highs and lows. I ran some daft lockdown challenges like the accumulator in May (1 mile further every day to complete nearly 500 miles in a month), and the rule of 6 (6 miles on the hour every hour for 6 hour) as well as a few marathons and ultras but approached Xmas 2020 feeling a little jaded and lacking in mojo.
As much as I'm naturally an introvert and all my running mates are typically idiots the loss of company on runs for much of the year, coupled with few races to target saw me finish 2020 undertrained and overweight.
I normally do at least one 100 miler a year and had only managed to fit in the track 100 by Cockbain Events. It followed a month or so of minor niggles and combined with threatening tsunami weather was enough for me to sack it off after marathon distance and record only my second DNF.
Another few weeks of pathetic runs followed. I forced myself out over Christmas with the government approved single buddy (Boris had promised to save Christmas so naturally most of the UK was in lockdown) and subjected a sequence of running mates to slow and whinging runs in an attempt to get some form and pattern back to training.
2021
2021 started and I planned to hit it with the enthusiasm I had at the start of 2020. Running in groups was still banned so largely I subjected poor Chris to multiple stints of run backs for an out of shape runner, angry at his lack of performance and waddling mass. I resolved to lose weight and hit the spring events close to race weight. Or at least without my own gravitational field. What those spring events might be was anyone's guess. As with 2020 I was making decent progress and getting a glimpse of some form, but then I tore my calf in late Feb and was off running for three weeks. The helpful Rudi had recommended two weeks of rest but given much of England was underwater anyway it wasn't a huge effort to push it to three weeks. It was a little alarming how easy it became to not run. With lockdown in place I wasn't even missing out on club runs, parkruns or races, it was just solo runs in the rain or annoying Chris that I couldn't do and it didn't seem a huge hardship to sit on the exercise bike in the warm and dry garage watching Netflix instead. Maybe I'd stopped being a runner?
Eventually I started a few tentative runs again and unlike most of my returns from injury kept the distances short with at least one rest day between. It was frustrating to be in March when I'd hoped to be approaching peak fitness and instead be the least fit I'd been in probably 7-8 years. Of course I consoled myself with the rubbish we runners are told "Every run is a gift", "You're still lapping everyone on the couch" and all the rest but ultimately when you're struggling to complete a run you'd have done as a cool down after a hard effort none of them really worked.
Due to poor planning on my part and a few rescheduled races I had a very uphill climb with the 100 mile Thames Path in May, the 50 mile Rose of the Shires a couple of weeks before, and a marathon the week before that. 6 weeks to go from tentative jogs to 100 miles was ambitious but nearly worked. I finished the marathon (scraping sub4), completed the 50 miler (over an hour slower than my previous attempt) and got to 68 miles of the 100 before dropping. I wasn't injured I just ran out of motivation and was disappointed at my performance. As with the 50 miler I was destined to be much slower than my previous attempt. Younger fitter version of me was kicking my arse. Clubmate Gary had popped out to say 'Hi' at the critical point my enthusiasm vanished and I took the nice warm DNF bus home to Milton Keynes.
A similar decision was made at the MK24 (24 hours to run as many 6 mile laps as you could). The previous event I'd won it with 104 miles, went home for a shower and came back for the awards. This time around I was laps behind younger fitter me and the other actual runners so at 40ish miles decided to call it a good training run and gave up. DNFs were now something that happened to me. A lot. Also 'a lot' was the phrase that could be used to describe my weight. My goal to lose 5kg in 2021 was now only 6kg away. Bugger.
There were two positives in this period. At the rescheduled Milton Keynes marathon despite a hot day and an undulating course I managed to dig in for a 3h44, my best marathon effort in probably a year although far from the relaxed jog I would have hoped given this would have been the time I paced had the Covid arrangements allowed official race pacers. The other was the return of club runs and in particular what I named the Totally Terrific Trail Thursdays where we took the club runs on tour and tackled some of the amazing trails around Milton Keynes. The combination of running mates and beautiful routes restored my mojo as we inducted new runners to the challenge of trail running.
With this uplift in enthusiasm I stood on the start line of the Wendover Woods 100 miler. It's a formidable course, with similar elevation to the Lakeland 100 but more manageable 10 mile loops and actual trails rather than vague suggestions of how to get across the terrain. It was only the second running of the event and the DNF rate was expected to be high. The one big advantage for me was that I hadn't run it before so for once younger fitter Mark could not beat me, even if the hills and mud did. Despite the usual up and down nature of a 100 and a serious "I want to go home" moment at half way I made a decision to finish and stuck it out. It wasn't fast, it wasn't pretty and it cost me two pairs of shoes but I was finally back finishing 100 milers.
Endurance was back (albeit very slow endurance) so I needed to concentrate on getting some speed. I was gradually ramping up the pace on the weekly 9 mile Brickhill runs and getting back towards respectable figures. We managed to get a holiday in Gran Canaria when Covid allowed and I spent 10 days hitting daily core and spin classes with some crossfit and gym work, with running as a seasoning on top. For those 10 days I lived the life of an (often drunk) athlete and came back feeling amazing. The afternoon we landed home was a local 10k. Having no idea on performance I set off at the back and ran at a controlled effort. Every climb seemed effortless, every runner in front a target to pick off. I crossed the line in 41 minutes. Not a PB but so much removed from the lethargic performance of the past year I was elated. I even finished thinking I could have pushed harder, not the usual "everything hurts, kill me now" of a fast 10k. I had now added speed back and it was only just August. With London in early October I had two months to build on this and record a decent time at London. Everything was looking good.
Then it wasn't. The day after the 10k I began to cough. A lot. My temperature rose and it was looking like classic Covid symptoms. Multiple Covid tests proved otherwise and I was just suffering from a bad man flu. It passed in around a week and I began to feel a little better, even attending the Redway Runners Beat The Barge 5 mile race where once again younger fitter Mark beat me and I recorded a disappointing time for a hard effort. It felt like running through treacle but I was so desperate to be back running I ran anyway. In hindsight I returned too early as the next week I was hit with some sort of sinus infection that saw me unable to eat for over a week and mostly stumble from bed to office as best I could before returning to bed. Regrettably I missed the Greensands Ridge Relay, my favourite local ultra that I'd been looking forward to since it was cancelled in 2020.
In this period I probably spent 16 hours a day in bed debating ramming a knitting needle through each ear to relieve the pressure. Everything I swallowed caused a sudden pressure change in my head and made we want to cry or gag. I only managing to sleep in brief windows between the various pain meds kicking in. My best night's sleep was when I complemented the meds with a couple cans of beer in desperation. I felt that rough at the time I didn't even care for any medical issues I just needed sleep. This all sounds whinging but for the best part of 2.5 weeks I was the sickest I can remember being in my life and when I finally emerged the other side I was the lightest I've been as an adult and weak as a kitten as a result. The massive jump in speed at that 10k now looked laughable as I slowly returned to running for seemingly the fifteenth time since Covid first became a thing and at a painful, deep chested amble.
Having (finally) learnt my lesson not to come back too quickly I was a little more tentative on the return this time and tempered my need to maximise the remaining 6 weeks before London against being well enough to actually finish it. Being woefully off the pace for the 6m40s paced 4 mile run from Redway Runners I instead dropped to the 7m30s paced group where I also struggled to keep up. At my fittest my marathon pace is around 7m20s so failing to hit a slower pace for just 4 miles is humbling.
I decided to enter the 20 mile race at the MK Festival of Running a month out from London. I picked 20 over the half marathon distance as although further I hoped the lack of pressure to try and match a previously achieved HM PB would be better mentally. In an ideal world and with perfect training I would hope to run the 20 miles in under 2h30, ready to push the remaining 6 on race day for a finish sub3h10. As it stood I had a more realistic target of 2h45 with a fall back plan of 3h. I know from experience that if I can run 20 miles in sub3 then I'm good for a sub4 on race day. My performance was nowhere near where I wanted it to be (as evidenced by a hard effort parkrun in over 23 minutes) but I still clung to sub4 as the last vestiges of being respectable at London for a man that had hoped to be taking chunks off his PB and bearing down towards sub3 originally. The run went as well as can be expected. Lack of training and a hot day meant I crossed the line in 2h46 so close to what I expected but confirmed I was a long way off where I'd want to be.
The following few weeks I gradually pushed the effort a little, feeling the weakness of the previous illness gradual fade like a bad hangover. A combination of parkruns and the 730 group gave me two weekly paced efforts to gauge improvement and I gradually moved up the pack.
Another poor diary clash meant I had the postponed Big Bear Warwickshire Ultra (40 miles) two weeks before London. Many training plans have a longer run two weeks out as a final push but seldom are they as much as 20 and definitely not 40 miles. I viewed it as a long training run in my attempt to compress 16 weeks of structured training into about 6. I expected a 4hr marathon with a sucky half to follow as I slowly fell apart and was broadly correct finishing in 6h46.
The Monday before London I decided on a last minute entry for the Enigma 5k in the evening and lined up knowing a 5k race so close was ill-advised but would also be my final performance check to estimate my marathon time and work out my pacing. The race went well. Really well. I ran with clubmate John throughout as the lead pair and cautiously opened the taps a little at halfway feeling strong, finishing 1st place in 20m30ish and my fastest 5k since early 2020. As with the 10k it also felt relatively controlled. I certainly couldn't have ramped up the effort hugely but there was certainly scope to have pushed a little harder and got closer to sub20. It was exactly the confidence boost I needed ahead of London.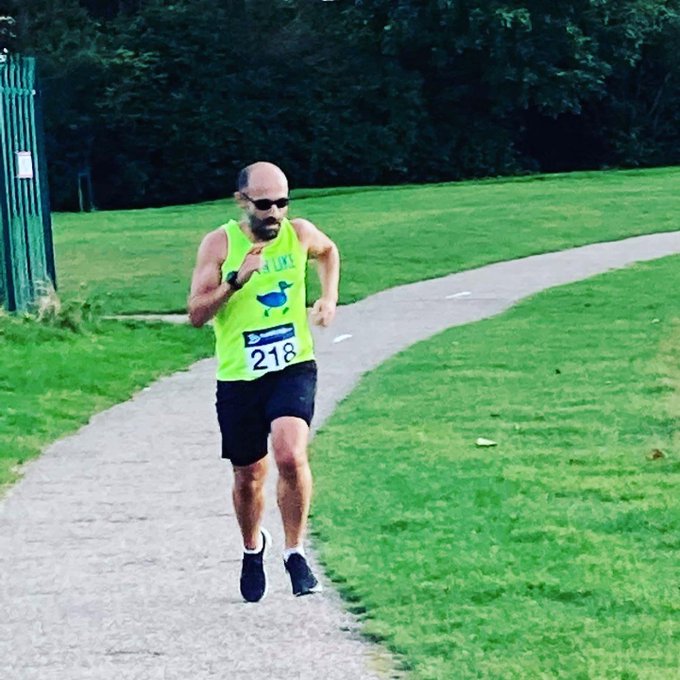 So it's now Wednesday, the expo is open (just this one year could they not have posted out the bibs?) and the optimistic Garmin predictor is suggesting a 3h20 marathon. My plan for Sunday is to go out at just under 8min pace and push from mile 18 if I feel good, with an A-goal of sub 3h30, a B-goal of sub4 and if that fails I'm going to find a pub on route, visit the off licence and aim to finish before the coach home.
Fitness and injury come and go, goals change and ultimately running is a pointless hobby we do for fun so I'm learning to be happy with very different outcomes from what I originally planned.