How do you eat an elephant? One bite at a time.
This morsel of advice was given on a podcast I listened to on lap 5 of the Wendover Woods 100 and summed up my approach very succinctly. Unlike the rest of this text. I expected a write up of a 10 lap race to be short but somehow have written loads. Sorry.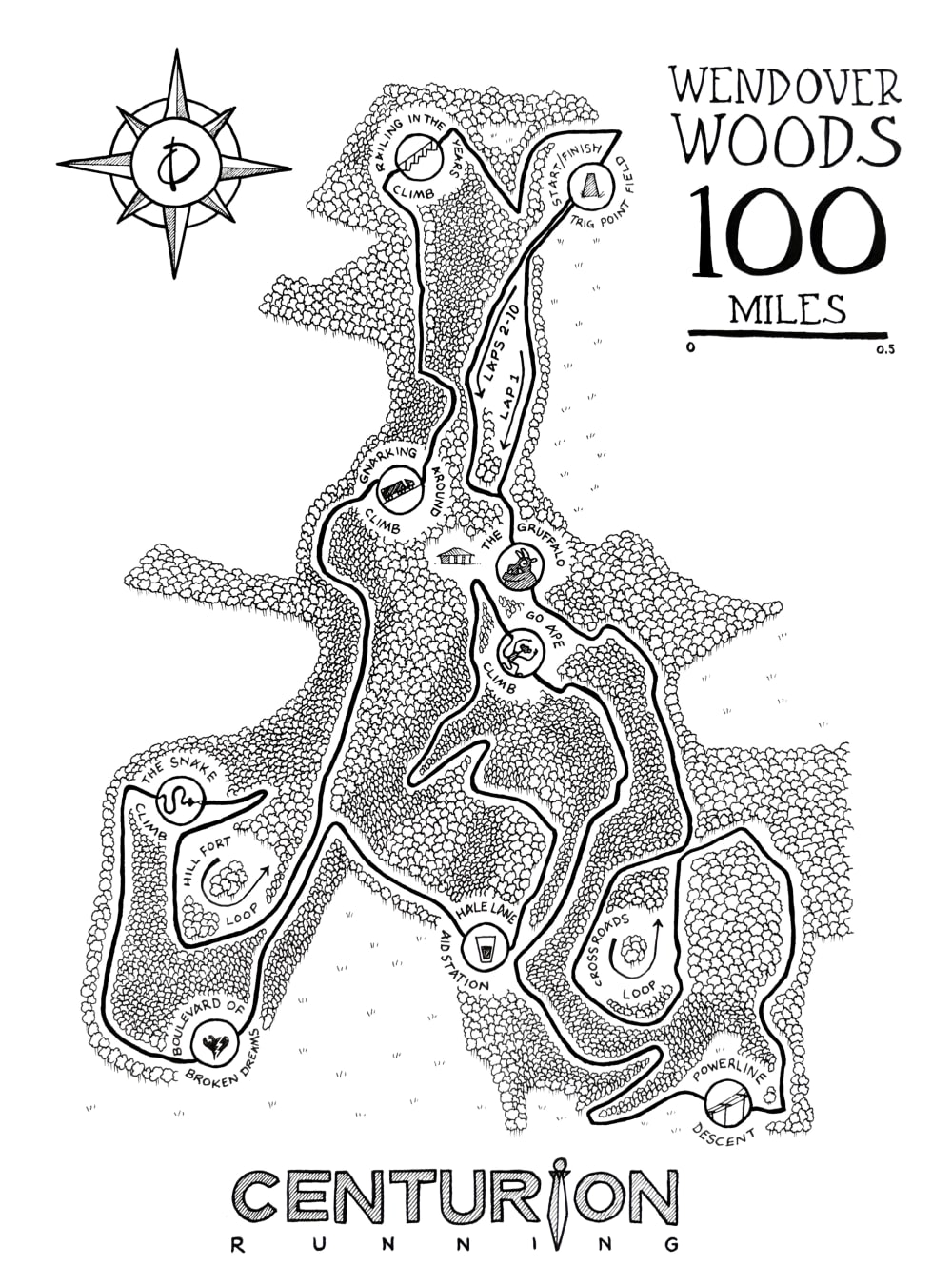 A lap of Wendover Woods is a pretty challenging loop for any runner. There's some hills big enough to have names (some don't have names but need them) a couple of technical trail sections and a few stiles thrown in just to break it up and make you regret never doing any yoga. It's the 50 mile event of the Centurion Grand Slam that runners often dread. I've managed to avoid it as it always falls on my wife's birthday and I like being married. That's my excuse anyway. I did have a go at 50k night race (click here) as final training for Lakeland 100 in 2019 and managed to fall over, punch a tree, dislocate two fingers and couldn't type without some discomfort for a good few weeks. I was never going back to Wendover. Stupid place.
Then 2020 Covid happened and Lakeland 100 was postponed. This was good as I'd entered the ballot largely by mistake and really wasn't ready for it again. I'd finished (click here) on my first go but had an awful race and felt I needed to go back and give a performance I was proud of. I hadn't really expected to get back in the very next year, so the postponement was not unwelcome but it did leave me with no 100 miler for the year. A bit of Googling found a track 100 by Mark Cockbain to fill the void, and I was aiming to be fit and smash a PB. I made it to the start line after a couple of injuries and nagging issues, ran a marathon distance but didn't feel in the groove and went home on a DNF (click here).
This was my first DNF at a proper race, my first 100 DNF. Prior to that I viewed DNFs on long ultras as something that happened to other people. If I toed the line I was going to finish. Keep going until you're done or dragged off course by the RD or medic. You can always manage a little further and eventually you find yourself at the finish line. Stopping before was an odd choice, like those people who don't eat until the point of physical discomfort at a buffet. Why not? Sure you're full but there's more pizza and it's fresh out the oven, why stop when it ceases to be fun? (This approach to food may explain my waistline).
The track 100 was my first time at stopping before I was full. I'd run a marathon, had some fun, biblical rain was forecast so I packed up and left. No big deal, it's a one off.
Then I ran Thames Path 100 this year (click here) as a return to proper 100s, again with the intention of some awesome training and smashing a PB on a fast course. Recurring injuries (tore a calf) meant I went from three weeks of rest to attempting a 100 in a couple of months. The race went well considering and pace was pretty good for an undertrained and overweight hobby jogger, but at 68 miles I realised I'd had enough and dropped. I just couldn't face another 30+ miles of ultra death march in the mud and went home. Bed was warm and soft. The Thames was cold, muddy and lonely. The track 100 had set the possibility of a DNF in my head. Now it WAS something that happened to me. Worst of all was I had the best week of running immediately after TP100, finding effortless pace on routes I've run literally hundreds of times. This proved I was actually in pretty good shape and easily capable of finishing, I hadn't really pushed myself, didn't even get to being full. I'd got to the main course and left early. I'd turned into someone who leaves the buffet with their trousers still done up, not the top button open to allow more room for dessert. Amateur.
My only other 100 scheduled for 2021 was my deferred Lakeland 100. Deferred because I forgot to apply for a refund before the deadline. It was likely going to clash with a booked holiday but given the ever changing nature of lockdowns, travel restrictions and travel corridors I might not know until weeks before if I could make it. Months of training needed for a race that may not take place, or that I might be abroad for. As an insurance policy and in a fit of annoyance at my TP100 decision I saw the Wendover Woods 100 was still open, and only a few weeks before Lakeland 100 so signed up, figuring I could train for a hilly 100 and see which one happened. The next few months were a constant state of flux as I switched from being able to run one, the other, both or none, all depending on what stream of meaningless drivel escaped from the pillowcase of custard we elected as PM. That's a man that's never left a buffet hungry.
Obviously I focused diligently on training. I really considered going to Wendover. At least twice. I did build a DIY high elevation treadmill but probably spent longer in the construction than the use.
I entered the local Milton Keynes 24hr race as a 'guaranteed' 100 mile to put the demons to bed. I'd won the previous staging of the event with 104 miles, popped home for a shower, came back for the awards. This was a dead cert surely? It wasn't, as after just 55 miles I gave up when I was feeling full and went home. Again. The curse of track 100 was back. Three failed attempts, all mental.
Suddenly it was the week before Wendover and I needed to make a decision. It looked like both of my 100 events were on, and cancelled foreign holidays suggested I would be available for both. I didn't really fancy either as felt undertrained for a hilly 100. The only positive signs were a 3h44 marathon and a 1h37 half on the previous two weekends, getting somewhere back to my better form.
Eventually the easier logistics of Wendover and peer pressure from Brian meant I showed up on a Friday morning to a damp field outside Wendover to meet various mates running or volunteering. I hadn't been back to the woods since it claimed two fingers. My main motivation on the Wednesday when I made my final in/out was to finish Wendover so I didn't have to go back to Lakeland. The decision was made sat on the M25 in traffic after a long day at work in Croydon. The only decision you should make in Croydon is which way to leave. A Friday spent knee deep in mud sounded more fun than I'd just had.
Oddly despite my last minute doubts I was fairly positive about the race on the morning. It was a fearsome event but crucially one I hadn't done before. Unlike TP100 or MK24 I wouldn't be racing my former self (a younger, fitter and less injury prone version) so had less pressure. The DNF rate from the previous staging of WW100 was very high so there wasn't even the pressure of finishing. Most people didn't. No biggie if I didn't. It was better than going to work on a Friday, let's have a jog and at least make the most of the days holiday I'd booked.
The race had a 32 hour cut off, so 4hrs longer than TP100. My time for TP100 is a shade under 23hrs, so figured at absolute best I would be over 27hrs, likely over the 30hrs given Lakeland had taken me 36hrs for 105 miles.
James gave a rare in person race briefing which was a welcome return to normality, and warned us it would be hot and muggy in the woods. He was right.
As above, a lap of Wendover is challenging. Contemplating 100 miles of it is ridiculous so mentally I broke it down. From the moment we started I decided to eat the elephant one bite at a time. At the bottom of Powerline Descent I celebrated having done it once. And without falling on my arse. Only 9 to go. Getting to the top of the Snake meant it was one less to worry about. Every lap was a bit more elephant gone. I didn't intend to stop until I was sick or ran out of elephant.
The laps clicked away and it was going well. Mentally I'd decided not to get out the cheat sticks until around halfway as a 'treat', a similar approach that Ally had. We chatted on the first lap, she was fresh from an awesome 4th place SDW100 performance and cruised past me as I lumbered up a small incline. The hills were harder than I remembered and on lap 2 I found myself studying the undergrowth for sticks as I ran. One looked good for Gnarking and I grabbed it to aid me up the slope. At the top I launched it back down for next time.
It was great to see Stuart and Spencer out on course or at the checkpoints with their dogs. Or at least I saw a Spencer. Later photographic evidence shows he appeared to show up and support at seemingly every race that weekend, then course swept the 50k race so I'm increasingly convinced he has at least one body double so possible the actual Spencer was out cheering people on Race To The Stones. Who knows!
Lap 3 came and somewhere before halfway I saw the mother of all sticks. It was perfect. I grabbed it and it helped me enormously. We formed a close bond and worked well. I named him Mr Stick. The laps were ticking over and I was keeping myself amused wondering with some other runners how long it would be before we were lapped by Stuart, the previous winner in an incredible 18h56m. By comparison my fastest lap at the 50k was just under 2hrs. My fastest of three. He'd managed 10 of them, all at a faster average pace. As I was pondering how much better other runners were Matt jogged past me on Gnarking like it was a flat field.
I maintained my small bite approach. Leave the Trig Point and run until you passed within touching distance of Hale Lane aid station, wave hello to either Dimi or Kerry at the tent. Starter done. Run a little out and back before officially reaching the aid station and get to stroke Rolo the lovely dog. Main course done. Then a walk up the hill (whilst eating real food) often in the company of fellow runner Mark as we seemed destined to gravitate to each other at this point, before the dessert of a couple of hills and the welcome sight of the railings.
My only physical issue was a grimace inducing inner thigh cramp on my right leg each time I ascended Gnarking. It stopped me in my tracks and needed a couple of breaks up the hill to allow it to pass. I used the pause to take some more salt tablets and invent some more swear words. Neither really helped and on lap 4 it also started to flare up on the Snake as well. So that was nice. By trial and error I found ascending sideways, like a skier side steeping up the slope seemed to appease the issues. Not elegant but less of a strain on my lexicon of obscenities.
Each lap I saw the ice cream van at the top of Go Ape Climb in the distance, tempting but too far off course to contemplate as I didn't want extra miles.
By end of lap 4 (just under 10 hours for me) I heard Stuart had sadly dropped as had many runners already. Others were forced into making the decision early due to train timings. Drop now and get home tonight, or drop a lap later and be stuck in a tent until morning? The race was taking no prisoners so I was set on changing up my race plans and upgraded to full cheat sticks. I left the trig field on my fifth lap feeling determined. One more bite of each bastard hill and I would be halfway.
Then it started to rain. Not heavily so expected it to be a pleasant change from the oppressive heat. In the end it wasn't even enough to cool the runners but did make the course a slippery mess. When I ran the 50k in 2019 it was dusty trails. I'd wanted the same for this but has been content to accept muddy patches. Now it was more slippery than an MP questioned about PPE contracts. I was grateful for my cheat sticks as they kept me on my feet after multiple slips. My shoes were struggling. When I checked them I noticed with resigned acceptance that the sticky mud had saw fit to pull the black rubber tread sections off my Hoka leaving me with racing flats at the rear. Ideal. The rest of the lap I just concentrated on not falling over. I would get to halfway, eat my pot noodle from the drop bag and change my shoes for my lugged pair.
I was halfway through, just over 13 hours, sat in the aid station tent and shovelling in noodles followed by coffee, with a can of Monster energy drink. 5 bites of every challenging course section done. Looking around the tent I noticed the tarpaulin with the drop bags was looking markedly empty. James confirmed the attrition rate was higher than expected, he suspected due to oppressive heat. I was getting cold in the tent so went to the car to change my shoes. Feeling chilled I decided to get in the car and change in the warm. It was warm. And comfortable. I didn't want to go back out. Proper runners who trained properly and wore proper shoes with proper grip and did proper pacing and descended hills properly had dropped. That was ample reason not to trudge off and put off the inevitable. I wasn't going to finish so why go out again?
I did a little video to encapsulate my thoughts and speaking the words made it seem clearer. Did I really need to finish a 100 this year? No. They're pointless. A string of three failures had shown that. I decided I didn't like 100 milers and wouldn't do any more. They took too long and hurt too much. I'd finished 6 or 7 of them including hard stuff like Lakeland 100 and GUCR145. Not being able to remember how many you've done is a clear sign you've done a sufficient number. I'd go back to marathons, maybe the odd 30/40 miler as a fun day out.
Decision made. Retire from the race and retire from stupidly long ultras. Wrapped in a blanket in a warm car I just needed to build enthusiasm to go and collect my drop back and return my tracker. Then I saw Kerry walk past. She'd finished her first shift of volunteering and was bedding down for the night in a tiny tent, in a wind swept field, to do it all again in the morning. People outside the sport would probably consider these the actions of an idiot. Why give up a weekend to hang out with sweaty, moaning, miserable runners? She and the many other volunteers did it so that even bigger idiots like me could run around for 100 miles for no sensible reason. At the rate the runners were dropping it would be likely these awesome volunteers would soon outnumber the idiots. I genuinely felt guilty for the thought of dropping out when I could still manage a few more laps so I went out again to eat some more of the elephant. New shoes were on and some renewed fire in my belly.
The shoes were amazing but a little tight on my feet. Not having worn them more than 10 or so miles at a time I didn't know how they'd get on but they were my only suitable pair. It was now dark, so I stuck some podcasts on and trusted that come dawn I'd feel better. If nothing else I'd have a few more goes of patting cute dogs at the aid stations. I will go a long way to say hello to a cute dog.
Laps passed and at 7 laps I entered the tent to find Ally wrapped in a massive coat having been forced to drop due to inability to eat. Brian was also gathering his things as unfortunately had looked unlikely to make the cut off for the next lap. Matt had also dropped. My assembled running mates were dwindling and in a weird way it felt like pressure for one of us to finish. Did it need to be me? I nearly quit three laps ago. The tarpaulin of drop bags was ever emptier.
It was early morning and time to go again. I switched my entertainment to an audio book and listened to Charlie Engle recount his story of addiction, adventure racing and ultra running. If he could manage to run across the Sahara I could manage another 10 miles around Wendover in the morning sun. One more round of elephant.
Details blur but at some point Dimi and her dog Rolo ended their shift at Hale Lane to be replaced by Kerry again. No less enthusiastic but less belly rubs.
I set a target to finish lap 8 within 24hrs leaving me 8hrs to do two laps before the cutoff. 8hrs for 20 miles sounds pedestrian when sat at home with fresh legs but when mentally and physically jaded it is far less certain. There's also the added issue of trail maths when your brain begins to wonder if 32 minus 24 is really 8 or you forgot to carry the 2?
I was a little ahead of target for the lap and finished under the 24hrs. It would leave me with a full 8 hours for the final two laps. I hadn't remembered when the cut offs were but a volunteer confirmed I had a 1h15m left to start lap 8 and be ahead. Plenty of time.
I stopped at my car for a treat and drank a small lukewarm beer. It cleared the sugary taste of too much Tailwind and Coke and I felt invigorated. I might even be ready to run. A mile into the lap and my stomach reminded me that whilst I'd made a concerted effort to eat regularly and keep myself fuelled it was not an ever-expanding organ and might need to take the rubbish out. Fortunately the main toilets were open at the café so I could deal with the issue.
One of my few running skills is bowels of steel and in a decade of running this was only my second mid-run poop. I left the toilets feeling lighter and confident. I reached for my phone to take a photo as I reached the Gruffalo. Only I didn't have my phone. Annoyed at myself for dropping it in the cubicle I ran back. It wasn't there. I dimly remembered putting it on my chair in the aid station at the Trig Point and hoped it was still there. That suddenly seemed a very long way. If I'd known the woods better I'm sure there is a short cut back to the Trig field but not wanting to risk getting lost I ran back the way I'd come surprising Mark and other runners on their way out. The adrenaline rush of possibly getting timed out due to being an idiot had returned some speed and I was able to run at a rate that eluded me for the last 5 or so laps.
I reached the field and James seemed concerned to see a) a runner returning to the checkpoint the wrong way and more importantly b) one doing it (relatively) fast and angry. He asked the problem and I made the worldwide hand gesture for phone as I ran in, as clearly admitting to losing my phone out loud would make me look an idiot. The lovely Zoe ran to meet me just outside the tent and I turned to run back out on lap 8. Again. What you want with 20 miles left is a couple of extra miles speed work. James cautioned me not to try and make up the extra miles in one lap and I nodded and assured him I wouldn't. Only an idiot who loses his phone would be stupid enough to ignore the wise words of an ultra running expert.
Coming up to the Hale Lane aid station I caught up Mark again having made up all my extra miles in just half a lap. Because I'm an idiot. People I passed on the lap remarked how well I was moving and in the final straight to the aid station I checked my watch to see my current pace was briefly sub 8min miles. Idiot.
The adrenaline rush had fuelled me well and I finished my penultimate lap of 12 miles quicker than some of the 10 mile laps. My ninth bite of every hill (and 10th of the one up to the visitor centre) had gone well.
Lap 9 finished well and I felt great apart from an increasing number of stones in my right shoe. They had been plaguing me for a few laps but no matter how often I emptied them they returned. One in particular under my little toe kept coming back and for the last couple of laps had been a literal pain, a weird fizzy sort of pain. Before the final lap I took the shoe off again, thoroughly rubbed my sock clear and ran my hand inside my shoe to push out any remaining stones. What I found was no stones. What I did find was a hole in the side where the seam had opened up allowing much of Wendover in and a complete lack of stone in my little toe. The pain was caused within the toe itself. It felt swollen, stiff and a bit sharp inside. Having broken toes before and spent hours in A&E only to be told to strap it and go away I decided to do the next best thing and ignore it and set off on lap 10.
What pace I had for lap 9 had gone and no amount of coke, caffeine or likely any illicit drug could bring it back. My ankle also stiffened on the front a couple of miles in and felt swollen when I poked it. I pondered if I'd damaged a tendon. In retrospect I had just done my shoe up too tight. Because idiot.
I settled in for a slow plod consoling myself I had 4hrs for 10 miles, had not lost my phone this time, and had been reassured by a runner earlier that it was almost impossible not to do a lap in 4hrs. Of course it sounds easy but when at the top of a hill you look down to see your watch isn't even showing current pace as it doesn't register you as moving AT ALL it does make you wonder.
With each difficult section I said goodbye a final time. Powerline Descent, you didn't beat me even if I had to descend off path in the undergrowth as I struggled for balance on the worn steps.
At the halfway point I advised the volunteers not to take offence but I didn't want to see them again and would soon be done. I debated asking Kerry for a medical professionals opinion of my toe but given the levels of grime and muck on my feet it would be likely have been as useful as getting a quote from a builder by showing them an aerial map of the country you live in.
The final few features came, seemingly spaced further apart than even before – was this weird twisty bit after The Snake always here? – but didn't beat me. Finally I squeezed through the gate at the top of the last climb and prepared for a sprint finish. I've managed one at the end of every ultra even Lakeland when my feet were mangled clumps but I had nothing left and did a geriatric jog to the stile and across the line in something under 31hrs. I was spent and felt more physically broken than after Lakeland. The 14th finisher of just 18, from a field of 49 proper runners.
I was presented with the buckle and I found I held something special. There was only ever meant to be one Wendover 100. This had been a rare chance to compete in the second. Only James knows if there will be more. For now it's enough to know I got one. After a run of three pathetic drops from easier 100 milers I finished a bloody hard one. I ate the elephant. It tasted like sweat, Gu gels and flat coke.
Unfortunately I smelt worse than the elephant and was aware the stench of Wendover and I had combined into a heady cocktail. I changed top with care, finding my race pack had rubbed a puss filled welt on my chest that had glued my tee on. I debated changing shoes as mine were obviously fit for the bin but didn't want to mess further so packed up and headed for home and a shower, keeping the windows open to try and avoid the stench.
I got home and had pizza for lunch. And dinner. And breakfast the next day. I may have over ordered. Southend Pier rollercoasters were a challenge to board the next day. I've soaked my feet twice and they're still not clean enough to let someone look at them. Despite all this I really fancy another 100 miler. Maybe not a full elephant though.